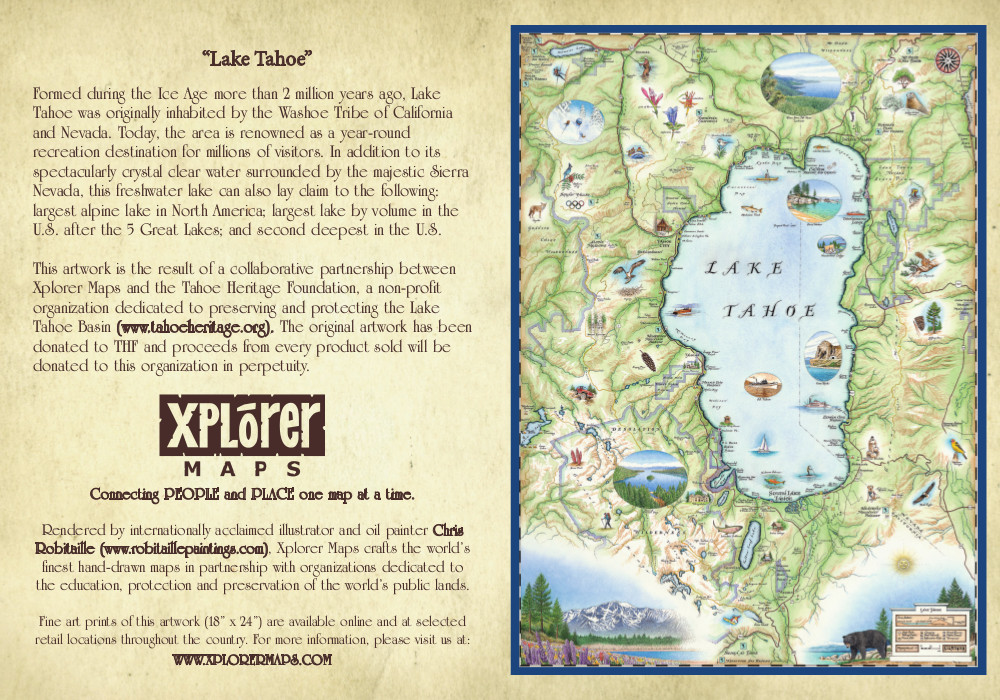 The map sells for $30 with half going to support preservation, restoration and interpretation in the Tahoe Basin.  For collectors a  limited edition of signed, numbered, giclee prints of this beautiful map are available for $350.
ABOUT TAHOE HERITAGE FOUNDATION
A Brief Bit of Information About Us……
The Tahoe Heritage Foundation supports a variety of preservation, restoration and education projects and programs in the Lake Tahoe Basin. The Tahoe Heritage Foundation was founded in 1996 to enable a public/private partnership with the US Department of Agriculture that manages Forest Service restoration projects and interpretive activities at the Tallac Historic Site and the Taylor Creek Visitor Center adjacent to the southern shore of Lake Tahoe. While the Tallac Historic Site and the Visitor Center are the flagship partnerships of the Tahoe Heritage Foundation, over the years the Tahoe Heritage Foundation has formed partnerships with other public entities for specific projects. Past partnerships include the California Tahoe Conservancy, the Tahoe/Bikal Institute, California State Parks and the City of South Lake Tahoe.
Mission Statement
The mission of the Tahoe Heritage Foundation is to preserve and protect the cultural heritage and natural history resources of the Lake Tahoe Basin through restoration, interpretation, and education.